'Devastating': Current and former officials shocked over military secrets found at Mar-a-Lago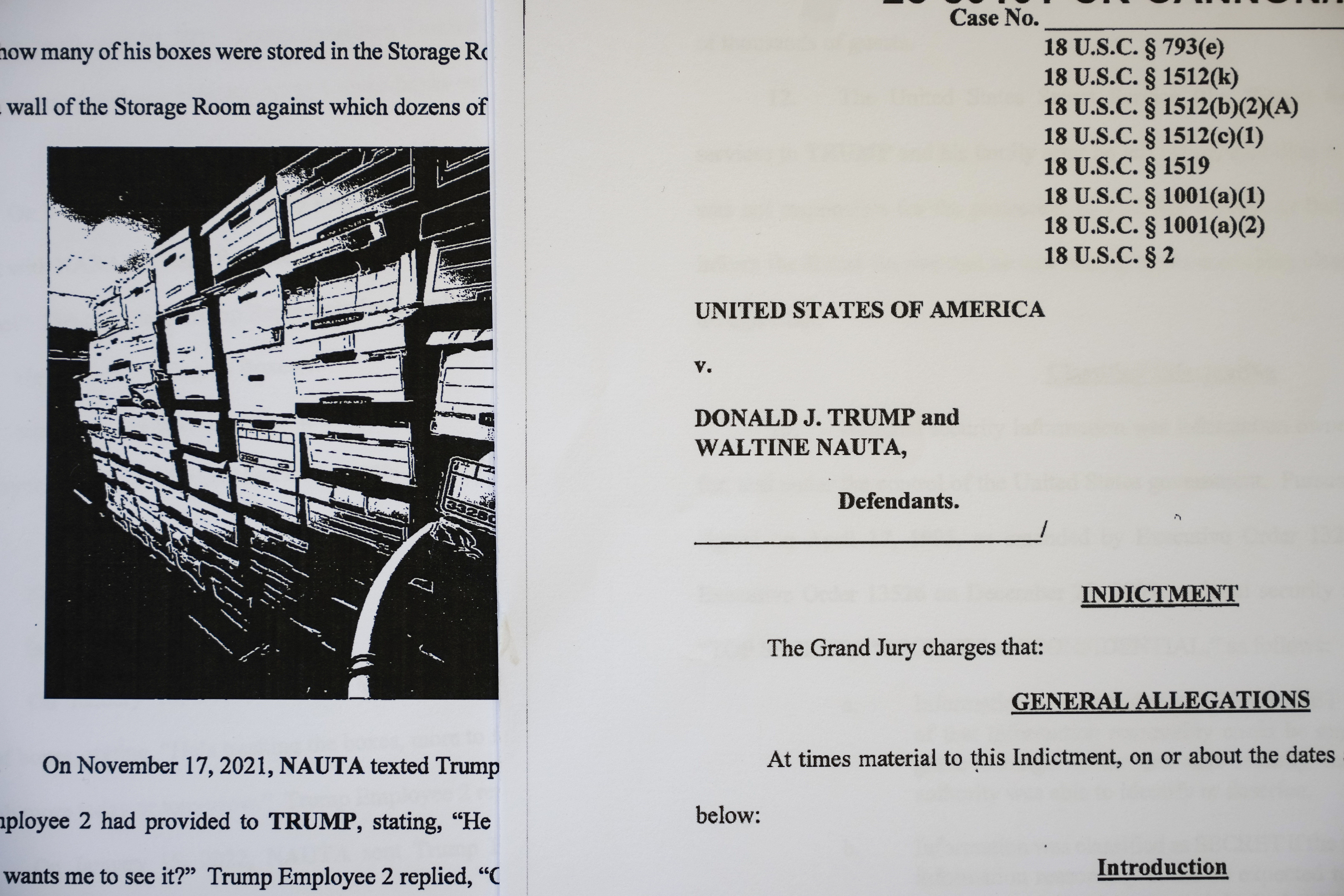 The unsealed indictment on former President Donald Trump's handling of classified documents has current and former national security officials claiming the case is "devastating" against him and that "damage" may have been done to U.S. national security.
Trump is facing 31 counts of violating the Espionage Act through "willful retention" of classified records and six counts related to his alleged effort to obstruct the investigation, according to the 49-page document released Friday. The indictment also alleges that Walt Nauta, a Trump aide during his presidency and now in private life, moved boxes with classified records to obscure them from investigators.
The indictment includes information about the kinds of documents in the former president's possession, some of them "regarding defense and weapons capabilities of both the United States and foreign countries; United States nuclear programs; potential vulnerabilities of the United States and its allies to military attack; and plans for possible retaliation in response to a foreign attack."
"This is a terrible thing," said a senior Defense Department official. "If laws were broken, he must be accountable. Must. I think that's where the majority of reasonable military and national security folks are, regardless of their political leaning.
"But it's also a terrible thing for the nation to have to see a president go through the federal criminal process," added the official, who was granted anonymity to speak candidly on a sensitive issue.
The more than 100 documents seized from Trump's office in a storage room at his Mar-a-Lago club in Florida ranged from Confidential to Top Secret. Images released along with the indictment showed stacks of boxes in open areas, with one showing them lining the walls of a bathroom.
Those discoveries led special counsel Jack Smith to issue the first-ever federal indictment of a former president. It's Trump's second indictment in three months following charges from the Manhattan district attorney over alleged hush money payments to improve his 2016 election chances.
The latest legal woe for Trump has his former aides fuming. "The indictment is devastating. Those who defended Trump before the charges were made public, or those who have not yet spoken, should very carefully weigh how history will consider their statements," John Bolton, Trump's third national security adviser, told POLITICO.
Others are more worried about what it means for the United States to have had such sensitive papers out in the open. "The classified documents described in the indictment are some of the most sensitive information we possess," said Mick Mulroy, a senior Pentagon official in the Trump administration. "This type of information should never be removed from a secured facility and once discovered should have been immediately returned."
Mulroy suspects that an intelligence and security review may be conducted alongside the criminal proceedings to discover "any potential damage that may have been done to our national security."
Trump maintains his innocence, insisting without evidence that President Joe Biden has weaponized the Justice Department to keep him from winning the 2024 election. It's "the greatest witch hunt of all time," he told Fox News on Thursday.
Most of Trump's rivals for the Republican nomination have come to his defense, claiming that he has been improperly targeted while other wrongdoers have faced no consequences. While most have attacked the Department of Justice as a corrupt institution, entrepreneur Vivek Ramaswamy has already vowed to pardon Trump on his first day as president.
One European official wasn't overly concerned by the contents. "I'm not that surprised," the official said. "We learned to expect anything" when it comes to Trump.